ÖKO-Pur – the only oil and chemical binder with a climate protection effect.
ÖKO-Pur consists of polyurethane foam which is taken from the demanufacturing of old refrigerators, VFC, VHC, coolants and propellants.
This prevents the hazardous potential of these substances from being released and threatening the environment. The use of a bag of ÖKO-Pur powder saves 1.7 tonnes CO2, while the use of ÖKO-Pur fine grain and coarse grain can save 4 tonnes.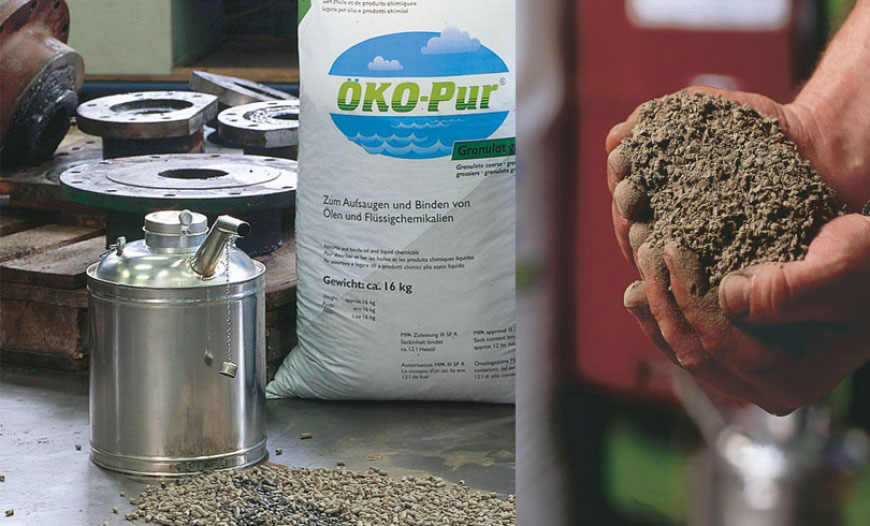 All ÖKO-Pur products are extremely environmentally friendly as 100% recycled polyurethane is used as the base material. Polyurethane is compliant with hygiene regulations, completely harmless and non-hazardous for people, animals and plants. As a recycled product, it helps preserve precious resources.

Oil leaks somewhere on a daily basis, even if sensitivity when handling this problem product is continuously growing. Fats, emulsion paints, varnishes and acids are also always a risk for our environment, not just leaking oil. 
Quick and reliable help is important to prevent permanent damage. With the oil and chemical binders from ÖKO-Pur, you'll always have the right thing for any event.
Every bag of ÖKO-Pur sold promotes global climate protection. With each bag, SEG supports climate protection projects in places such as Mexico, Ghana and in developing countries.